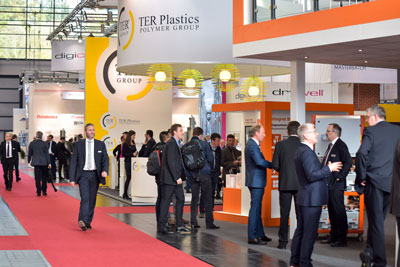 More than 1800 Exhibitors from 37 Countries at the 25th Fakuma.
October, 17, 2017 - After the doors opened at the Friedrichshafen Exhibition Centre on Lake Constance on the 17th of October, the region where three nations meet once again started focusing entirely on plastics technology through the 21st of October, 2017. With the Fakuma international trade fair for plastics processing being held this year for the 25th time, private trade fair promoters P.E. Schall GmbH & Co. KG set the next new record on the occasion of the upcoming anniversary event! For the first time ever, more than 1800 exhibitors from 37 countries participate. All floor space, as well as the foyers of the Friedrichshafen Exhibition Centre, is occupied by exhibitors displaying their technologies and new developments. With 915,000 square feet of overall exhibition floor space, maximum occupancy has been reached with the current hall layout.
Innovations and technologies displayed along 25 editions of Fakuma have made a meaningful contribution to the development of the plastics industry and also to the dissemination of knowledge on the various fields of plastics. Fakuma has witnessed the evolution of industry trends such as the continuous improvement of production efficiency and, at the same time, conservation of resources and reduced energy consumption, as well as recycling. Fakuma's exhibition portfolio has reflected this fact in the past and continues to do so today – by presenting the entire process sequence for industrial plastics processing, from raw materials to product design, as well as tool and mould making, processing machinery and recycling systems.
3D printing technologies, lightweight construction, "Industry 4.0", Composite and hybrid materials, as well as solutions for efficient processing and resources conservation are some of the major trends of technologies and innovations highlighted at Fakuma.
Plastics processing technologies displayed at the exhibition include solutions for injection moulding, extrusion, blow molding, thermoforming, 3D printing, as well as further processing right on up to integrated module assembly and sterile packaging under cleanroom conditions.
Plastics technology is now no longer associated with negative notions. Serious efforts developed by the plastics processing industries targeted at efficient use of raw materials, high levels of functionality, longest possible service life and consistent recycling are bearing fruit in many places. Highly significant technology and industry events like the Fakuma international trade fair for plastics processing, and others too, have played a considerable role in this positive development, and have thus made their contribution to the acceptance of plastics.
Fakuma's anniversary edition offers an interesting supplementary programme including, amongst other things, the well-known exhibitor forum, as well as a Recruiting, Basic and Further Training Day (Wednesday the 18th of October, 2017). Throughout the four days of the trade fair there will be 38 individual presentations (including six on the issues of recruiting, basic and further training), which will deal with aspects such as requirements for high-performance polyamides, close-to-contour mould temperature control and increased productivity with tool coatings, as well as the benefits and opportunities of digitalisation. Keeping in line with the anniversary motto, "Plastics Meets Business", the supplementary programme will round out the exhibition offerings by presenting Fakuma 2017 as an integrated information, communication, procurement and business platform, and as the industry event of the year.
Source: Fakuma
.