PolyOne Accentuates What's Possible with Application-Specific Materials and Design at NPE 2018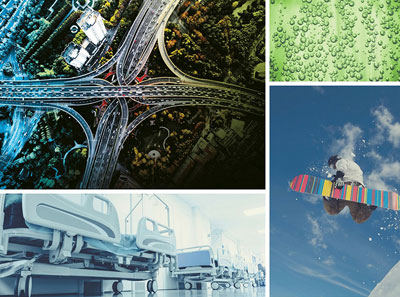 April 30, 2018 – PolyOne Corporation, a provider of specialized polymer materials, services and solutions, will invite NPE show attendees to "Explore the Possibilities" in a meeting center that showcases how unbiased material development and design support create spectacular end products.
Featured new products will include:
Hammerhead™ Marine Panels: PolyOne claims that these continuous-fiber reinforced thermoplastic sandwich panels generate a weight savings of more than 50% versus plywood, and offer boat manufacturers a lighter, more efficient alternative to traditional marine construction materials.
OnFlex™ LO TPEs: a portfolio of low VOC / FOG and odor polymer grades that assist OEMs in meeting vehicle interior air quality (VIAQ) standards (VDA 278), these are used in HVAC dampers, fasteners and clips, coin trays, center consoles, door pockets and other interior parts. According to PolyOne, they offer additional characteristics such as high temperature sealing performance, matte surface finish, and low density. And require fewer processing steps and lower energy costs because the molder no longer needs to post-heat the part to achieve the expected odor rating..
Resilience™ LS for LED Lenses: PolyOne says that these flame-retardant vinyl grades are durable in extreme outdoor environments and highly-resistant to corrosion and chemicals, and also meet thin wall UL V0 & 5VA while maintaining good impact resistance. Available in Water Clear, Diffuse and our newest Diffuse Frost options
COMPTEK™ High Temperature Formulations: Eighteen months ago, PolyOne acquired COMPTEK (Diez, Germany), a specialist in formulations based on extreme-heat polymeric materials such as PEEK, PES, PEI, PPS, PSU and PPSU. Properties that can be achieved with these materials include transparency, even for formulations based on polysulfone, electrical and/or thermal conductivity, laser marking, and X-ray opacity.
Lactra™ SX UV Barrier Additive: In solid masterbatch form, this additive provides high-performance light blocking technology and protection for liquid dairy contents when added to monolayer PET bottles, says PolyOne. It can replace paperboard packaging for ultra-high temperature (UHT) liquid dairy products for greater design freedom.F
FireCon™ CPE: based on chlorinated polyethylene (CPE), this flame-retardant material resists acids, alkalis, oils, fuels, chemical solvents, extreme temperatures, and weather, according to Polyone. It retains flexibility at temperatures below 0°C.
OnColor™ Brilliant: striking new line of special effect masterbatches that finally meet the need for paint replacement and premium surface finish. Customers across multiple industries have been looking for a paint-free solution with no tradeoffs, which drove PolyOne to develop this new masterbatch. PolyOne says that it is a cost-effective option for paint replacement on polymer parts and creates an exceptional metallic color that continues through the part's thickness.
In addition, PolyOne will showcase solutions for leveraging the rise of advanced driver assist systems (ADAS) and the overall electrification trend in transportation. Its EMI/RFI portfolio – including new long-fiber conductive materials – helps shield ADAS cameras, sensors and electronic control units to eliminate cross talk.
Lightweighting is also part of this trend, and its Polystrand™ thermoplastic composite continuous fiber tapes and laminates are providing the structural strength to replace metals while amplifying design freedom.
PolyOne is exhibiting at NPE 2018 in Orlando, Florida, in meeting room S210 from May 7-11, 2018.
PolyOne Corporation, with 2017 revenues of $3.2 billion, is a provider of specialized polymer materials, services and solutions.
Source: PolyOne