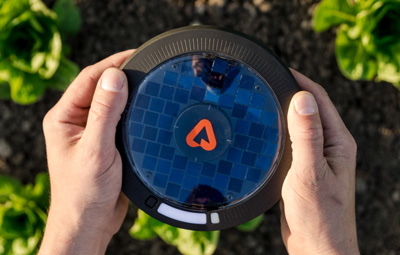 Eastman celebrates Tritan's decade of market disruption with new IoT applications.
April 26, 2018 — Global specialty plastics provider Eastman announces three product developments marking the milestone 10th anniversary of Eastman Tritan™ copolyester, a clear, tough, chemical-resistant polymer. Recent innovations in smart technology are emerging to position Tritan as a suitable plastic for applications in digital agriculture with Arable Labs (photo), which uses Tritan in its solar-powered smart device to monitor crops and weather. Tritan is also a key component in the SproutsIO smart microgarden and Hidrate Spark smart water bottles that track water intake and integrate with fitness trackers like Fitbit, Apple Watch and Google Fit. Tritan has inherent properties that make it an appropriate material for an increasing number of products in the Internet of Things (IoT).
"We couldn't have made this product without Eastman," said Adam Wolf, founder and CEO of Arable Labs Inc. "Eastman tech experts worked side by side with us at our facility in Shenzhen, China, to develop the process for our cosmetically beautiful, chemical-resistant device. Now we're in 16 countries on six continents monitoring 20 different types of crops."
Bringing agriculture indoors, the SproutsIO smart microgarden is a modular, scalable gardening system that learns and grows with its users. The SproutsIO system integrates the soil-free device, sIO subscription-based seed renewables, and SproutsIOGrow software services. SproutsIO uses wavelength-tuned LED lighting and environmental sensors with Wi-Fi connectivity. The SproutsIO device is made of BPA-free Tritan material, offering home cooks and professional chefs the opportunity to cultivate fresh produce in their kitchens. SproutsIO chose Tritan as part of its mission to provide a responsibly produced, transparent, and high performance product.
Hidrate Spark features an interior sensor that records daily water intake and syncs to a mobile app via Bluetooth to display user data. The sensor automatically tracks water consumption and provides customized hydration goals. The Hidrate Spark bottle uses Tritan for its superior strength and moldability.
"Tritan has been a game changer in the plastics industry for the past decade," said Burt Capel, Eastman vice president and general manager of Specialty Plastics. "Eastman is committed to enabling market success for our customers. We help people clear hurdles, so they can adapt and move forward. We're proud of the history of Tritan as well as its relevance as the right plastic now for a myriad of applications."
According to Eastman, its Tritan™ copolyester is a valuable tool for enhancing existing products or creating new solutions, offering high performance properties such as clarity, colorability, durability, ease of processing, and heat and chemical resistance.
Over the past decade, Tritan has become a material of choice for applications across markets from housewares, small appliances, medical packaging and devices to reusable water bottles, dual-wall tumblers, and beverageware. Now Tritan is connected with the "smart product" revolution with IoT applications in markets like agriculture, fitness and hospitality.
Eastman is a global advanced materials and specialty additives company that produces a broad range of products for attractive end markets such as transportation, building and construction, and consumables. Eastman is presnt in more than 100 countries and had 2017 revenues of approximately $9.5 billion. The company is headquartered in Kingsport, Tennessee, USA, and employs approximately 14,000 people around the world.
Source: Eastman