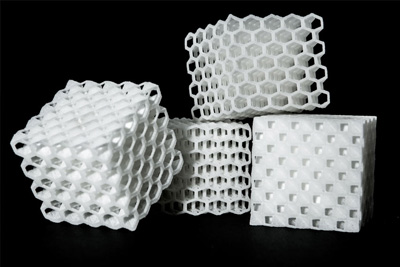 July 19, 2018 — Global specialty materials company Eastman introduces Eastman Amphora™ SP1621 3D polymer — its first-ever powder-based material for industrial 3D printing. Amphora SP1621 powder will be manufactured in collaboration with Advanced Laser Materials (ALM), a company specializing in material research, development and consultation for industrial 3D printing, otherwise known as additive manufacturing (AM).
Traditionally, AM has been used primarily to make prototypes and low-volume, customizable products. Large-scale manufacturing was hindered by a narrow choice of materials and limited printing technologies. Eastman Amphora SP1621 challenges these limitations. The polymer is an advanced, production-ready material for laser sintering. Amphora SP1621 is a high-performing material that enables new product designs from concept to solid 3D objects in a fraction of the time it takes for traditional manufacturing. The polymer's uniquely tailored properties enable Amphora SP1621 to have superior in-process and postproduction capabilities, including high recyclability, toughness and flexibility, and ease of processing.
"Together with our customers, we're realizing the value and potential industrial 3D printing has for the industries we support," said Bill McAdams, marketing director of emerging markets in specialty plastics at Eastman. "Eastman's long history of innovation and manufacturing capabilities allows it to work with companies like ALM to offer specifically designed materials that provide customers with enhanced customization, efficiency and productivity."
After careful research, Eastman chose to work with ALM to offer a material specifically for a laser sintering (LS) process. Preferred for creating high quality, functional parts, LS employs a laser to sinter powdered material at points in space defined by 3D modeling. ALM specializes in creating materials designed and optimized for laser sintering. In collaboration with Eastman, ALM is expanding the types and functionalities of materials available for use in the LS process.
ALM is ISO 9001 certified and has a centralized location with a global distribution network. The company supplies materials for sale across the whole powder-bed AM industry, including many other OEMs of 3D printing platforms. ALM's broad capabilities — including grinding, heat treating, compounding and advanced laboratory services — make it the ideal full-service powder manufacturer and distributor for Eastman Amphora SP1621.
"We're proud to be collaborating with Eastman to make materials that our customers need," said Donnie Vanelli, president of ALM. "The first material we will offer with them is one of the most advanced in the polymer market today and expands our offering to customers who prefer the quality of laser-sintering 3D printing.
As the market for industrial 3D printing technology grows at an exponential rate, so does the global demand for new 3D production materials. With the introduction of Amphora SP1621, Eastman is at the forefront of this growing market
About Eastman Chemical Company
Eastman is a global advanced materials and specialty additives company that produces a broad range of products found in items people use every day. With a portfolio of specialty businesses, Eastman works with customers to deliver innovative products and solutions while maintaining a commitment to safety and sustainability. Its market-driven approaches take advantage of world-class technology platforms and leading positions in attractive end markets such as transportation, building and construction and consumables. Eastman focuses on creating consistent, superior value for all stakeholders. As a globally diverse company, Eastman serves customers in more than 100 countries and had 2016 revenues of approximately $9.0 billion. The company is headquartered in Kingsport, Tennessee, USA, and employs approximately 14,000 people around the world. For more information, visit www.eastman.com.
About ALM
Advanced Laser Materials (ALM) specializes in material research, development and consultation for industrial 3D printing and additive manufacturing. Founded in 2004, ALM remains focused on providing customers with application-specific, quality-tested materials and engineering support to meet the most complex product specifications and production requirements. ALM offers the largest selection of laser sintering solutions with on-site capabilities to produce standard and specialized materials in varying quantities. Based in Temple, Texas, ALM is a wholly owned subsidiary of EOS Group.
Source: Eastman