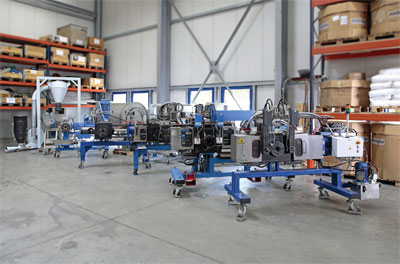 October, 10, 2017 – Polymer processing systems and equipment supplier Nordson Corp, which has its corporate headquarters in Westlake, OH, is building an "extensive" new facility in Münster, Germany, to serve as a global hub for all of the company's BKG® products. It will also house a dedicated aftermarket center for both BKG systems and EDI® extrusion and coating dies. Progress on the project will be highlighted in the Nordson exhibit at Fakuma 2017 (Booth A6-6109).
The BKG brand includes underwater and water ring pelletizers and melt delivery systems such as screen changers, gear pumps, and polymer valves.
Besides expanding capabilities for engineering, manufacturing, and sales of these products, the project will include an enhanced technical center for R&D and customer and laboratory trials. An aftermarket center will provide European customers with rework and repair services and will be designed to minimize order lead times and reduce downtime for customers.
The new facility is being built at the site of the longstanding home of BKG pelletizers in Münster and will more than triple the amount of office, R&D, and manufacturing space at that location. Until now, Nordson's Munster capability was spread across four separate locations.
"The Münster project will create a European center of excellence for polymer processing solutions," said Godfrey M. Sandham, vice president, Nordson Polymer Processing Systems. "All manufacturing operations will be reconfigured for increased efficiency. For the first time, all Münster engineering and R&D activities will be co-located, as will the aftermarket operations for the pelletizing, melt delivery, and die businesses."
Groundbreaking took place in May of 2017, and the project is expected to be completed by the early summer of 2018.
Source: Nordson