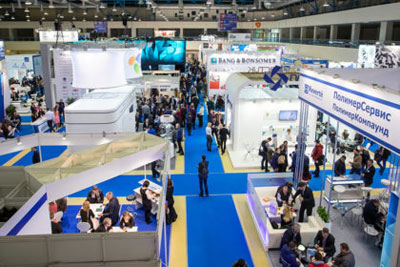 Strong German participation +++ Special 3D fab + print +++ lecture forum Polymer Plaza addresses Russian and international industry topics
November,11, 2018 - interplastica (www.interplastica.de), the 22nd International Trade Fair for Plastics and Rubber, to be held at the AO Expocenter in Krasnaja Presnja (Moscow) from 29 January to 1 February, continues to develop very positively.
After 650 exhibitors from 31 countries presented their ranges at the latest interplastica in January 2018, prospects are also excellent for 2019. There is growing evidence that next year's edition will post similarly good KPIs. After the official deadline for registrations in late September, only some small stand spaces are still available. The demand in the raw materials segment is as strong as for machinery and equipment.
Registered exhibitors include the major suppliers from the plastics and packaging industries as well as specialised SMEs, longstanding participants and a strikingly high number of new exhibitors. As for the international attendance, Germany, Austria, Italy and also China are particularly well represented. Furthermore, numerous companies from Turkey will take part in interplastica 2019.
The ranges displayed by exhibitors will be accompanied by a programme of technical side events. One of the highlights will be the special show 3D fab+print Russia in Hall 2.3, to be held concurrently with interplastica for the third time now. It focuses on the fast growing area of Additive Manufacturing/3D Printing. Both Russian and international experts will discuss the developments, opportunities and challenges of this young technology while exhibitors will showcase their innovative products and solutions.
Another major attraction for the international expert audience will be the Polymer Plaza in Hall 1. With lectures and discussions on raw materials production, application and processing, this lecture forum proves an extremely valuable add-on feature for trade fair visitors. Focal themes will include sustainability along the value chain and environmental issues, to name but two.
Held in parallel with interplastica 2019 again will be upakovka – processing and packaging with more than 250 exhibitors, generating clear synergies. While interplastica occupies Halls 1, 2 and 8, upakovka will be held at the HalleForum. 25,000 trade visitors are expected to attend the two trade fairs. Admission tickets to interplastica also grant access to upakovka and vice versa.
interplastica forms part of the Global Gate brand under which Messe Düsseldorf pools its global activities for the plastics and rubber industries. The product portfolio with ten events in total leverages the competence and experience gained by organizing the leading international K trade fair in Düsseldorf and by developing successful regional events. The ten trade fairs are professional communication platforms serving as door openers and gateways to such promising growth markets as Central and Eastern Europe, the Middle East, North Africa, China, India and South East Asia. Find details at www.k-globalgate.com
Source: Messe Duesseldorf