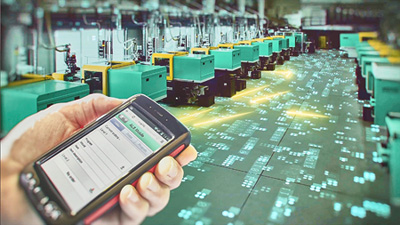 USA premiere: hybrid Allrounder 1120 H with a clamping force of 730 US-tons, new design, and Gestica control system
Highlights: Industry 4.0, innovative injection molding applications, and industrial additive manufacturing
"Wir sind da.": Arburg focuses on customer proximity, consulting, and service with three locations in the USA
May, 3, 2018 - At the NPE from 7 to 11 May 2018 in Orlando, Florida, Arburg will present itself as a trendsetter in the industry and a leader in digital transformation and Industry 4.0. The hybrid Allrounder 1120 H with a clamping force of 730 US-tons, a new design, and Gestica control system will celebrate its American premiere. In addition, Arburg will present numerous innovative technologies and sophisticated applications for all branches of plastics processing at stand W1325, West Hall level 2. These will include fiber direct compounding (FDC) for lightweight construction, LSR/LSR micro-injection molding, a high-speed IML packaging application, and the freeformer for industrial additive manufacturing. Arburg will present nine exhibits at its own stand, and five other Allrounders will be on display at partner stands.
"Whether additive manufacturing, Industry 4.0, or LSR processing, Arburg is a pioneer in many areas and has decades of know-how in plastics processing. We don't see ourselves as a supplier of machines, but rather as a technology partner that can provide our customers with everything from a single source," emphasizes Friedrich Kanz, Managing Director of Arburg USA, explaining: "The brand promise 'Wir sind da.' formulates our high standards of quality, reliability, and personal proximity to our customers and partners – across all industries and technologies in plastics processing. Our nine exhibits are therefore designed to showcase an exciting cross-section of our wide range of products and services. At 900 square meters, we enlarged our stand area by nearly 40 percent compared with the last NPE in 2015."
Large machine in the new design: The hybrid Allrounder 1120 H will be on display for the first time outside Europe at the NPE 2018, where it will be celebrating its American premiere. It extends the clamping force range by 30 percent to 730 US-tons. The new large machine offers a well thought-out design for even more ergonomics and functionality as well as its Gestica control system, which offers the same look and feel as smart mobile devices. At the NPE, the exhibit will demonstrate Arburg's comprehensive expertise in the turnkey sector using the example of the well-known folding step stools: the eight individual parts from PP are handled by a Multilift V 40 linear robotic system and then combined within the injection molding cycle with the help of a six-axis robot and assembly station. In this way, a finished product in Arburg design is created "ready to use" in a cycle time of 60 seconds in a fully automated process.
Increased production efficiency with turnkey and automation: To increase added value, a growing number of increasingly complex operations are being integrated into the injection molding process. Arburg offers a range of automation solutions from a single source for this. From simple pickers to six-axis robots and complex turnkey systems, everything is included. All eight Allrounders on the Arburg stand are automated. A sophisticated LSR application will be showcased as a further turnkey highlight alongside the folding step stools. It centers around an electric two-component Allrounder 570 A, which produces two two-color wrist straps from LSR (hardness 70 and 30 Shore A) in a cycle time of 70 seconds fully automatically. The watches are completed with housing and fastening ready to use in an injection molding cycle using a Multilift V 15 linear robotic system and an assembly station.
Injection molding highlights: Arburg will show a sophisticated LSR/LSR micro-injection molding application at the NPE 2018 with its tool partner Kipe Molds. An electric Allrounder 270 A with a 0.1 oz micro injection unit produces silicone membranes as used in valves for the medical technology or the automotive industry. The micro injection unit is equipped with a special 0.3 inch LSR screw for manufacturing the 0.0018 oz LSR pre-molded part (70 Shore A hardness). A servo-electric injection unit from Kipe Molds integrated into the 1+1-cavity mold and into the Selogica control system is used for the 0.00018 oz second LSR component (30 Shore A hardness). A kiki robotic system removes the LSR/LSR diaphragm, feeds it to a camera inspection station, and places it in a container.
The performance of the hybrid Allrounder for high-speed applications in packaging technology is demonstrated by a "Packaging" version of the Allrounder 570 H designed specifically for thin-walled items. The production cell manufactures four IML tubs from PP in a cycle time of around just 1.9 seconds. The decorated finished parts with a wall thickness of 0.0126 inches weigh 0.12 oz each. The mold as well as the automation system are from Brink.
Lightweight components are interesting for many industries, especially for the automotive industry. Fiber direct compounding (FDC) with glass fiber rovings is a low-cost alternative to processing fiber-filled compounds. The FDC unit on the injection unit includes a side feeder with integrated cutter, an adapted cylinder, and special screw geometry. The fiber length, fiber content, and material combination can be individually adjusted for targeted influencing of the component properties. At the NPE 2018, a hydraulic Allrounder 820 S will produce two 11.6 oz airbag housings in a cycle time of 70 seconds. A weight monitor integrated into the automation system displays the consistency of the shot weight and the finished parts are placed in boxes by the Multilift V linear robotic system.
Medical technology is also an important market with strong growth rates for Arburg. An electric Allrounder 470 A manufactures tubs from medical-grade PP using a 2-cavity mold from Hofstetter. The cycle time for two tubs, each weighing just over 0,05 oz is around 2.9 seconds. High-speed removal and stacking is performed by an automation system from Hekuma.
Arburg will present the automated encapsulation of inserts with a vertical Allrounder 375 V rotary table machine using the example of radius gages. A Multilift Select robotic system placed compactly on the machine first feeds the metal inserts to a plasma pretreatment station and places them in the equipping station. In the mold they are encapsulated with glass-fiber-reinforced PA 6.6, the finished parts are removed from the 1-cavity mold and placed on a conveyor belt.
Individualized high-volume parts: By combining additive manufacturing, injection molding, and Industry 4.0 technologies, high-volume parts can be enhanced and customer requirements integrated directly into the value chain. Arburg will show how such customized individualization works for the first time at the NPE 2018 using the example of the IT networked and fully automated production line for business card holders. A six-axis robot links injection molding with additive manufacturing here. First the person's name is entered on a tablet PC. An electric Allrounder 370 E Golden Electric manufactures the molded part, which is handled by a Multilift robotic system. An individual barcode is applied during the subsequent laser marking step. A six-axis robot takes the card holder and places it in the build chamber of the freeformer. For the automatic opening and closing of the cowl, the freeformer and robotic system communicate via a Euromap 67 interface. The freeformer additively applies the desired 3D lettering from ABS in accordance with the information in the code.
Industrial additive manufacturing: With a freeformer and numerous functional parts, Arburg will demonstrate at the NPE 2018 that Arburg Plastic Freeforming (APF) is not only suitable for prototyping but also and especially for the industrial additive manufacturing of functional parts. At an interactive station, visitors will be able to actually pick up these parts to see their functionality and quality for themselves. The open system affords users independence: freeformer customers can qualify their own materials using the APF process and optimize the freely programmable process parameters specifically to the application at hand. An enormous advantage in this context is that certified original materials can be used, for example for medical technology or the aerospace industry. In addition to amorphous standard granules such as ABS, PA, and PC, Arburg's continuously expanding range of qualified materials includes elastic TPE, medical-grade PLLA, PC approved for the aerospace industry, and semi-crystalline PP. A presentation by Arburg on 9 May at the "Additive Manufacturing" conference will .explore the issue.
Source: Arburg