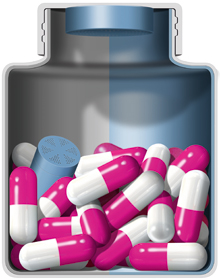 Regional premier of EQius™ brand humidity-control products
Oxygen-absorber packets debut for liquid infusion market
Shelf-life prediction service simulates packaging conditions
July 19, 2018 – Clariant, a world leader in specialty chemicals, will present new products that help control moisture and prevent degradation of packaged pharmaceuticals at CPhI Middle East & Africa 2018. Clariant Healthcare Packaging is exhibiting its full range of desiccant canisters and packets, tubes and desiccant stoppers, oxygen scavengers, Advanced Desiccant Polymer (ADP®) and humidity stabilizers at Stand C25 at the trade show being held at the National Exhibition Center in Abu Dhabi, UAE, 3 - 5 September 2018.
"This exhibition comes at an ideal time," explains Stéphane Rault, Product Manager for Oxygen Absorbers. "The pharma market in the Middle East is changing and expanding rapidly, with an increased emphasis on local product development and production. With five manufacturing sites around the world, plus local distribution and technical service, Clariant is well-positioned to provide support from the very beginning of a project right through manufacturing and shipment. We plan to show those attending CPhI in Abu Dhabi how we can help them make progress very quickly."
The show marks the Middle East debut of Clariant's new EQius brand name, which encompasses all of the products and technology related to equilibrium relative humidity (ERH) stabilization. These include products currently marketed as EQ-Pak®, EQ-Can®, EQ-Stopper™, and EQ-Bag™, along with the raw material that goes in them. The different forms make it possible to customize humidity control throughout the drug-product development cycle, from bulk ingredients to finished pharmaceuticals.
Developed jointly by Clariant Healthcare Packaging and Nanjing Tianhua Tech Co, Ltd., new Oxy-Guard™ oxygen-absorber packets for infusion bagsare being introduced at CPhI Middle East & Africa. These iron-based absorbers can help prevent degradation and color changes caused by oxygen in liquid infusion bags containing emulsion, amino acid, nutrition liquid and pharmaceutical products.
Experts in Clariant Healthcare Packaging will be on hand to discuss the company's new Stablus™ predictive simulation service. "Pharmaceutical stability and shelf life depend on protective packaging that maintain optimal conditions for sensitive compounds even as ambient conditions change," points out Rault. "Identifying the ideal packaging solution can be difficult and time-consuming, but Stablus can narrow the range of options through simulation, even before physical testing." The service provides a science-based recommendation in report form based on proven formulas to optimize the compatibility between the drug isotherm and the packaging.
Clariant Healthcare Packaging manufactures a full range of controlled atmosphere packaging solutions including pharmaceutical desiccants, equilibrium sorbents, adsorbent polymers, oxygen scavengers and pharmaceutical closures and containers. Using both active and passive packaging technologies, Clariant offers an array of standard components and complete systems, as well as full innovation and development capabilities. By understanding customer needs and expectations, Clariant is able to offer comprehensive and viable solutions that increase efficiency, reduce costs and improve the environmental compatibility of products.
Source: Clariant