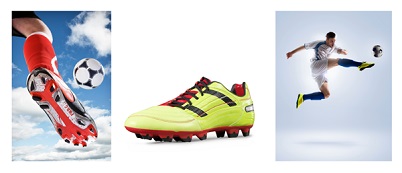 February,21, 2018 - Footwear experts at chemical company Huntsman announced the launch of the Avalon® AB DI range of thermoplastic polyurethane (TPU). The company claims that the new material family has a fast cycle time, being easy to demold and with potential to help footwear manufacturers improve productivity when creating injection-molded parts.

Designed to simplify the production of thick walled parts, Avalon®AB DI TPU offers significant demold improvements when compared to standard injection molding materials, Huntsman says. According to the company, test results show that cooling time is significantly reduced with Avalon® AB DI materials, reaching demold hardness in half the time or better compared to a conventional TPU.

Avalon® AB DI TPU was developed following discussions between Huntsman and a major footwear component supplier. The customer in question wanted to increase productivity when molding footwear soles such as soccer plates. Huntsman says that the use of its Avalon® AB DI TPU enabled the customer to increase the production capacity of their injection molding machines while maintaining the properties of the TPU. Avalon® AB DI TPU is also suitable for use in other injection molding applications including the production of thick wall technical parts.
Craig Roberts, Global Footwear Marketing Manager at Huntsman, said: "Where injection molding companies are looking to increase capacity and productivity, our range of Avalon® AB DI TPU offers an attractive alternative to our existing range of Avalon® footwear TPUs. The range is also aligned with the current trends for simplification and automation in the footwear industry."
Huntsman Corporation is a publicly traded global manufacturer and marketer of differentiated and specialty chemicals with 2016 revenues of more than $7 billion. The company operates more than 75 manufacturing, R&D and operations facilities in over 30 countries and employ approximately 10,000 associates within four distinct business divisions.
Source: Huntsman