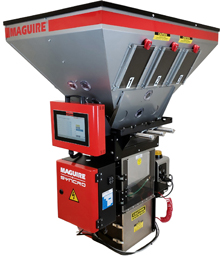 Maguire® WXB™ Blender and Maguire + Syncro™ Supervisory System Provide Complete Control of Cast and Blown Film, Sheet, Pipe and Profile, and Wire and Cable Production
July 09, 2018: A new blender that provides extrusion control based on batch precision and metering accuracy can be interfaced with a supervisory system that controls the total production line and has been proven effective in blown and cast film, sheet, pipe and profile, and wire and cable applications.
The new WXB™ Weigh Extrusion Blender from Maguire Products, Inc. incorporates a gain-in-weight (GIW) weigh bin and a loss-in-weight (LIW) mix chamber in one machine with a Maguire® 4088 controller. While the GIW function precisely weighs batch ingredients as they are dosed sequentially into the weigh bin, the LIW mix chamber makes possible accurate metering of the blend into the processing machine and facilitates control of extrusion and haul-off in accordance with process variables. The tight tolerance achieved by the blender (within +/- 0.1%) is a key to conserving raw material.
The 4088 controller, Maguire's most advanced blender control, is designed for communication with other systems in an Industry 4.0 setting. It enables the WXB blender to interface with the Maguire + Syncro™ supervisory system, which provides control of all segments of the production line from a single touch-screen HMI control. In blown film production, for example, the system controls extruder temperature, raw material metering and consumption data, air ring automation, gauging, internal bubble cooling, web and cage handling, haul-off, and winder. The system can be deployed for coextrusion with multiple extruders.
The Maguire + Syncro brand is the product of a partnership between Maguire and SYNCRO srl that began in 2016 with Maguire taking an investment position with SYNCRO. "The partnership draws on Maguire's experience in materials handling and blending systems and SYNCRO's extensive range of control systems for extrusion applications," said Frank Kavanagh, Maguire vice president of sales and marketing. "It enables us to provide customers with turnkey control systems for virtually any type of extrusion operation."
The Maguire + Syncro control display allows users to easily visualize single-layer and coextrusion processes. Modes of extrusion control available include pounds or kilograms per hour; weight per length of extrudate; and product thickness in microns.
Initially the WXB blender is available in three models: WXB 100 for throughputs of 100-220 lb/hr (50-100 kg/hr); WXB 200 for 220-440 lb/hr (100-200 kg/hr); and WXB 400 for 440-880 lb/hr (200-400 kg/hr). The blenders can be configured for up to twelve ingredients, each with a separate dispenser. The WXB blender is compact and includes guards for safe operation. The mix chamber is easily removed for quick cleanout. All loading system options available from Maguire are integrated into the controller.]M
MAGUIRE PRODUCTS, INC., headquartered in Aston, Pennsylvania, U.S.A., is the world's largest supplier of gravimetric blenders, liquid color pumps, and vacuum dryers and also manufactures loading systems, auger feeders, granulators and related equipment and software. Its customers include injection, blow, and rotational molders, extrusion processors, and compounders. Founded in 1977, Maguire operates six manufacturing facilities in Aston. The company maintains a network of distributors in the Americas and overseas and has three sales and service subsidiaries that stock, sell, and service auxiliary equipment systems from Maguire and its affiliate, Novatec, Inc.: Maguire Canada, Maguire Europe, Maguire Asia, and Maguire IMEA.
Source: Maguire