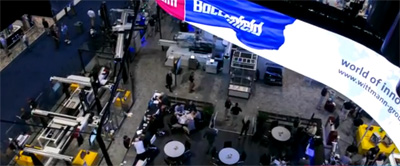 May, 07, 2018 - . Wittmann Battenfeld Inc. put the spotlight on its Wittmann 4.0 technology at NPE 2018. With a theme of "Pathway to 4.0," its booth included six injection molding machine work cells with integrated robots, automation, material handling and auxiliary equipment, all showcasing Wittmann 4.0 and its various features and benefits. There were also sections of the booth dedicated to specific products in Wittmann Battenfeld's portfolio, including a robot and automation section and several displays of Wittmann Battenfeld auxiliaries.
"We see ourselves as the industry leader in the Internet of Things and Industry 4.0," says Crystal Gagnon, Marketing Communications at Wittmann Battenfeld, Inc. "We take that role seriously, as we see this as the direction the industry is headed, and used NPE2018 to show visitors to our booth what their process can become with the technology that is already available to them from Wittmann Battenfeld."
There were new products featured in the Wittmann Battenfeld booth, such as:
the new high-speed EcoPower Xpress injection molding machine,
the new X Series robot
TCU featuring the new SpeedDrive technology
a new S-MAX screenless granulator line
the R9 robot control system
the new Aton H Portable dryer.
Each of these new products and/or technologies is integrated with Wittmann 4.0 displays, in keeping with the Pathway to 4.0 theme.
The theme ran throughout the booth, in each of the six work cells, which allowed visitors to experience Wittmann 4.0 live at a real operating cell. Also in the booth was the "Wittmann 4.0 Wall," a visual controls display that highlights the ease of communication between all of the Wittmann 4.0 capable auxiliaries, including MES monitoring, as well as a cell that includes a "Plug & Produce" demo. This demo let visitors learn about the B8 IMM control and how it can help them optimize their productivity with faster and easier product changeovers.
A description of the booth´s highlights is below:
Injection Molding Machine Work Cells
The six work cells on displayl included:
An EcoPower 180/750 machine molding a shampoo flip top with a 4-cavity mold from StackTeck using polypropylene from Washington Penn with color from UCC. The cell included a W833 Pro robot integrated with Mold Following, which allowed for high speed removal. It also featured a vacuum EOAT, conveyor, feeder, Flowcon Plus water flow control, and a hotrunner control system from Gammaflux. Special Features: short footprint design; hotrunner unit controls VNC through machine's B8 control; low noise emission (<68 dba); sensitive mold protection
An EcoPower Xpress 400/3300+ machine molding closures with a 96-cavity bottle cap mold from Bauer Plastisud using HDPE from Borealis, a hot runner controller from Gammaflux, and a Feedmax central vacuum receiver. The new EcoPower Xpress is a high-speed, all-electric machine model primarily geared to the requirements of the packaging and thin wall industry. The dynamic drive axes for injection as well as closing and opening of the EcoPower Xpress are designed for fast movements and control accuracy. Moreover, high energy efficiency is achieved by using servo drives, the company says.
Special Features: direct drive of clamping unit with rack and pinion drive system; electric high-speed injection with acceleration/deceleration up to 15,000 mm/s2; injection drive via rack and pinion drive system and two water-cooled servo motors; generous tie-bar distance; repeatability and precision in injection volume, injection pressures and switch over to holding pressure even at high speeds of 600 mm/s; integrated servo pump. The EcoPower Xpress is Wittmann Battenfeld's newest, high speed IMM that was being shown for the first time in North America.
A MacroPower 850/8800 machine producing a spoiler with a 1-cavity mold from HRS Flow that includes 5 servo-valve gates and several cavity pressure sensors used to demonstrate true intelligent closed-loop molding. It has Wittmann 4.0 integrated with a Hot Runner, as well as HiQ-Melt, HiQ-Flow, and HiQ-Cushion technologies operating. The cell complemented these complex operations with a GMax granulator, a TEMPRO Direct Plus TCU, a Gravimax G34 Blender, a W843 Pro robot, a hot runner controller from Gammaflux, and a Flowcon Plus water flow controller. This cell also showed the new CMS (Condition Monitoring System) used for preventive and predictive maintenance.
Special Features: small footprint with fast movement and modular design; good mold protection due to low friction; short locking and pressure build-up time through QUICKLOCK® system; HiQ melt cushion control where machine automatically cheks the integral; MMQ value-analysis tool to recognize material deviations.
Pathway to 4.0 Plug & Produce Demo
An EcoPower 110/350 cleanroom machine molding pipettes with an 8-cavity mold from Cavaform using polypropylene from Washington Penn with color from UCC. The cell showcased cleanroom capabilities, with a W823 robot with a Servo B Axis and cleanroom options, as well as an extension allowing for dual placement onto pipette trays. It will featured a high flow vacuum EOAT, tray filling conveyor system, TEMPRO D Plus temperature controller, and an Aton H dryer.
Special Features: Wittmann 4.0 fully loaded with 15 different clean room options; internal mold space exclusively with smooth, easy to clean surfaces; corrosion-resistant clamping plates with sealable threaded drillings; special paint; GMP compliant documentation; beltless direct drives for clean and precise movements suited for clean room and medical applications.
A Two-Shot MicroPower 15/10-10 machine with two parallel injection units and a rotary disk molding a plug inside the recording head of a vinyl record player with a 1-cavity mold from Ortafon. The parts are made of PC and electro conductive PC. Parts removal and depositing were handled by a WITTMANN W8VS4 Scara robot specially designed for this machine. In addition a built-in camera system inside the machine provided fully automatic quality inspection of the parts.
Special Features: Dynamic 2 C micro injection molding with short cycle times; precise all-electric machine with compact design and small footprint; two-step screw-and-plunger injection unit with injection speed of 700 mm/s; specialized peripheral equipment and robots designed for small and micro parts; 100% camera control via image processing integrated in the machine's B8 control unit.
A SmartPower 110/350 machine molding wood-plastic composite building blocks with an 8-cavity mold using wood-plastic compound from Fasal. The cell included a W822 robot, 8-cavity gripper EOAT, U-Shaped conveyor pallet loading system, TEMPRO Plus D TCU, GRAVIMAX G14 blender, Junior 2 Compact screenless granulator, Aton H dryer with Integrated Vacuum Station conveying system, and Flowcon Plus water flow controller.
Special Features: small footprint with compact design; traversable injection units with linear units and a screw that can be removed easily; simple, centralized hydraulic clamping system with diagonally symmetrical, fast-stroke cylinders and centrally mounted ejector allowing for rapid and even buildup of clamping force; support for moving platen by high-precision linear guides; easy and comfortable parts removal in three directions.
Robots and Automation
Wittmann Battenfeld had robots included on every work cell as well as in its own display, being major feature of the booth. The centerpiece of the robot offerings wee the New X Series robot. The company says that the robot has standard features that can outclass even the custom packages of older models.
Also at the show were the industry standard W and W Pro models, including the W823, the W832pro, the W833pro HS, and the W863pro. The wide array of robots running and on display at the Wittmann Battenfeld booth were capable of handling any application from customers, the company claims..
R9 Robot Control
The NEW R9 robot control system was also on display in its own section of the Wittmann Battenfeld booth. Operating with the NEW Primus 14 robot, model that is effective for pick and place applications at clamping forces of 50 to 150t, the R9 control system offers the flexibility and smart features of the R8.3 control with added features to take it to the next level. Still there were the QuickNew, QuickEdit, SmartRemoval, EcoMode, EcoVacuum, and iVac features, but the R9 offers gesture control and multi-touch capability, a 10.1" color portrait display, a digital robot twin, interactive 3D simulation, and improved ergonomics for more comfortable input.
Material Handling Systems & Auxiliaries
A range of Wittmann Battenfeld material handling systems and auxiliary equipment were also in the booth. Featured products included:
TEMPRO plus D temperature controllers with the NEW SpeedDrive option, a Variable Frequency Controlled pump that, according to Wittman Battenfeld, can increase process reliability, decrease energy usage, and enhance efficiency. TEMPRO direct plus L, TEMPRO direct, and TEMPRO basic models were also on display.
Central Material Handling systems showcasing both Wittmann M7.3 Central Control Platforms and new Teachbox Net 5 Control Platforms.
Central Drying System showcasing Drymax 1200 FC Plus redundant dryer technology, Silmax Smartflow technology with material saver function, new Modular Silmax 5000L drying hopper, and new Modular Silmax 2000L-Auger model for use with hard flowing materials or PET Crystallization processes.
NEW ATON plus H beside-the-press dryer, fully integrated with 4.0 capabilities. Also at the booth was the Aton basic compact dryer and the ATON plus VS, which included a maintenance-free vacuum blower.
Self-contained S3 Net Loaders, Feedmax Central Loaders, and MC Balance Throat Mounted Feeders.
CODEMAX RFID distribution station with RFID wireless communication to verify material connections, and a user-friendly interface control to indicate correct selection.
Global Release of Brand-New S-MAX Screenless Granulator line, G-MAX Conventional granulators, and Below the Mold Auger feed granulators, as well as a Net8 Blender Control
Gravimax blenders showcasing RTLS (Real Time Live Scale) Blending technology
All Connected!
In addition to the array of machinery and equipment, Wittmann Battenfeld was focusing on IoT (Internet of Things) and AI (Artificial Intelligence) with its Wittmann 4.0 technology. Aside from the 6 integrated work cells, there was the interactive Wittmann 4.0 demonstration that allowed molders to experience it first hand and learn their solution.
With headquarters in Vienna, Austria, Wittmann Battenfeld is a global company with 7 production facilities, 31 subsidiaries, and 24 agencies in 52 countries. Wittmann Battenfeld offers plastic processors a range of innovative robot automation and injection molding machine technology, along with auxiliary equipment for material conveying, blending, drying, granulating, heating and cooling, for individual work cells to fully integrated project managed system solutions from one manufacturer. .
Source: Wittmann Battenfeld