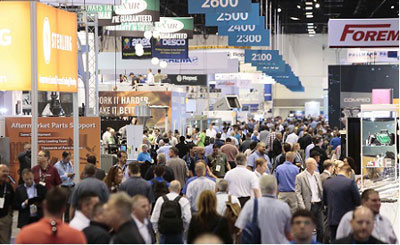 June 1, 2018 – More than 2,100 companies from 121 countries gathered at NPE2018: The Plastics Show in Orlando, Fla. last month to make new investments, debut manufacturing technologies and move the entire global plastics industry forward.
NPE2018, hosted every three years by the Plastics Industry Association (PLASTICS), concluded on May 11, wrapping up five very active days of commerce on the trade show floor and numerous new and returning educational programs that offered a glimpse into the future of plastics.
"It's hard to describe the elation on the trade show floor," said NPE2018 Chairman Glenn Anderson, senior vice president at plastics machinery manufacturer Milacron LLC. "We've heard plenty of testimonials from our exhibitors about how productive this year's show was, with many outpacing their lead acquisition estimates by the first day."
With 2,174 exhibiting companies occupying more than 1.2 million net square feet of sold-out exhibit floor space, NPE2018 was the largest in show history. It was also the heaviest show on record, with more than 21.7 million pounds of freight brought into the show.
NPE2018 attendance rose by 1.7 percent over that of NPE2015 to 56,034 confirmed registered attendees from almost 19,000 unique companies according to show data that were evaluated and validated by a third-party data analytics company*. Nights spent in hotel rooms also increased by 3.2% to 65,632.
Truly a global show, 49 percent of exhibiting companies and 27 percent of registrants came from outside of the United States representing 121 countries with 3,351 and 3,965 registrants from China and Latin America, respectively.
Exhibiting companies came from 35 nations with representatives from those companies hailing from 63 countries outside the United States. In descending order, the ten countries with the largest number of participating exhibiting companies were: China, Canada, Taiwan, Italy, Germany, India, France, Turkey, Switzerland and Austria.
"We sold out our exhibit floor nearly 14 months in advance of the show and worked diligently to accommodate the companies who were unable to secure space during our Space Draw," said show producer, PLASTICS President and CEO William R. Carteaux. "We heard terrific feedback of a fantastic show filled with innovations and new technology to help people make things better and faster."
According to numerous exhibiting companies, sales activity on the trade show floor was heavy from day one and continued through the week. "We had a tremendous amount of booth activity, with a lot of new visitors plus many existing customers who stopped by to see our latest innovations," said Paul Caprio, president of KraussMaffei Group. "We also topped our lead count with over 1,200 leads versus about 900 from three years ago."
*PLASTICS retained a leading data analytics company specializing in the trade show space prior to the start of NPE2018 to do a thorough review of the data collected from NPE2015 for comparison to NPE2018. During their review, the company was able to confirm 55,110 unique attendees and not the 65,000 attendees that PLASTICS has previously referenced. The previous attendee number was based on the best information PLASTICS had at the time.
The Plastics Industry Association (PLASTICS), formerly SPI, is the only organization that supports the entire plastics supply chain, representing nearly one million workers in the $404 billion U.S. industry. Since 1937, PLASTICS has been working to make its members and the industry more globally competitive while advancing recycling and sustainability. To learn more about PLASTICS' education initiatives, industry-leading insights and events, networking opportunities and policy advocacy, and North America's largest plastics trade show, NPE: The Plastics Show, visit plasticsindustry.org. Connect with PLASTICS on Twitter, Facebook and LinkedIn.
Source: PLASTICS / NPE2018 Press Office