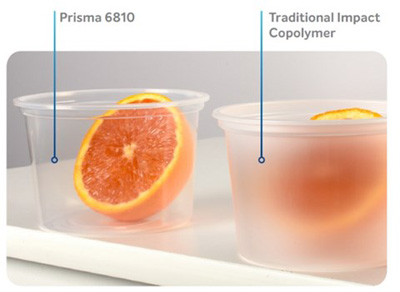 April, 30, 2018 - Braskem launched its new Prisma 6810 polypropylene and claims that the new material offers its clients an unmatched balance of transparency, stiffness, and impact toughness for thermoforming applications. The new resin will be on diplay at Braskem pavilion at NPE 2018 - The Plastics Show.
Braskem says that its Prisma 6810 polypropylene provides an exceptional combination of characteristics not typically seen in single resin solutions, including the toughness of an impact copolymer with simultaneous stiffness and haze values approaching that of a clarified homopolymer. This set of properties offers clients an attractive new option for an assortment of widely used packaging applications such as refrigerated deli containers, cold blended drink cups, meat or seafood trays, and much more. With consumers increasingly preferring clearer transparency containers, Braskem's clients were looking for new single pellet polypropylene solutions that do not require the addition of an elastomer to achieve the desired performance characteristics. Prisma 6810 also maintains its ductile characteristics at temperatures as low as -10 C.
Isla Regenye, Braskem America Market Segment Leader, stated, "At Braskem we are always striving to deliver innovative packaging solutions to our clients that offer enhanced performance characteristics as well as support for new product applications. Our new Prisma 6810 polypropylene delivers on this promise and reinforces our commitment to the thermoforming market, which is a strategic growth area for us. We believe Prisma 6810 meets the market's growing preference for clearer containers and that its unparalleled performance properties make it an ideal new candidate for material replacement opportunities."
Braskem will be hosting clients and partners interested in Prisma 6810 at the Braskem pavilion #S22001 at NPE 2018 being held at the Orange County Convention Center in Orlando, Florida from May 7 to 11, 2018.
Source: Braskem